Upcoming Mental Health Journaling & Collage Workshop with Craft Lake City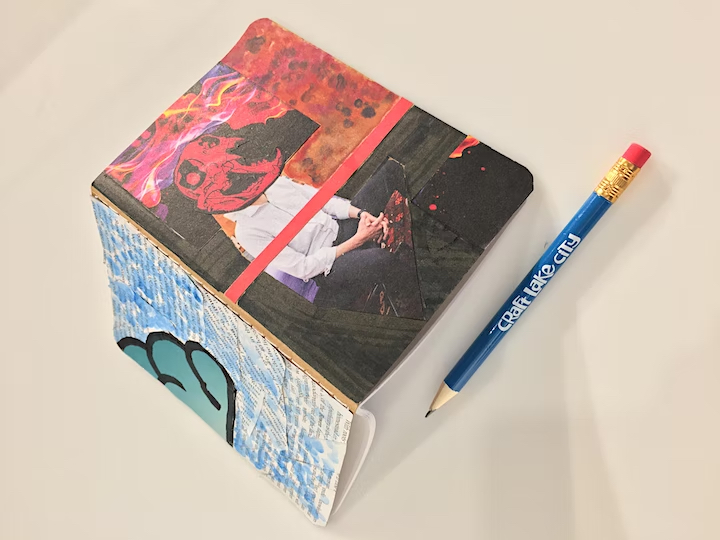 BHIDC community partner Craft Lake City is hosting a journaling and collage workshop to encourage us to get creative with our mental health. 10% of ticket sales for this event will be donated to BHIDC to support our work in making high-quality mental health care affordable and accessible for all.
From Craft Lake City: At STEM labs, we use scientific principles in creative new ways, and this workshop will give you science-backed skills for working through mental health challenges and documenting your journey. We'll begin the workshop by customizing personal journals with collage materials, offering a simple way to visualize your thoughts and moods. Then, Claire Adams of the Community Writing Center will offer an overview of what mental health journaling can do for you, guiding you through several prompts that will help you get started on your path to wellbeing.
This workshop is also a fundraiser, and 10% of ticket sales will be donated to the Behavioral Health Innovation & Dissemination Center at the University of Utah, where new breakthroughs in mental health treatment are always being studied. We'll hold this workshop at the University of Utah's NEXUS Facility, and detailed instructions on parking and location will be sent two days prior to the event to help you get there.
---
When
Wed, March 22, 2023, 6:30 PM – 8:30 PM MDT
Where
NEXUS Core Facilities (Suite 3639) Gardner Commons at the University of Utah
260 SOUTH CENTRAL CAMPUS DRIVE GARDNER COMMONS, Salt Lake City, UT 84112
---
About Claire Adams: Claire Adams is the Associate Director of the Community Writing Center and Associate Professor of Humanities at Salt Lake Community College. Claire was born in Belfast, Northern Ireland and moved to the United States in November 2007. Claire has studied creative writing & mental health journaling at workshops taught by Cheryl Strayed & Roda Ahmed. She is also the alt spring break faculty lead for the Intersectional Approaches to Mental Health trip. In her spare time, she is passionate about refugee advocacy and enjoys running, hiking, skiing and paddle boarding.
About Craft Lake City: Craft Lake City® is a 501(c)(3) charitable organization with the mission to educate, promote and inspire local artisans while elevating the creative culture of the Utah arts community through science, technology and art. Craft Lake City offers year-round community craft workshops taught by Utah's top artisans. More info is at craftlakecity.com.
About The Community Writing Center: The Community Writing Center was founded with a simple philosophy: everyone can write. They believe that writing is something anyone can engage in, and support this belief with one-on-one coaching sessions, workshops, quiet spaces for writers, and writing series. As a community writing center, they go beyond simply helping writers like you write—they seek to build our community by joining people together for the sheer joy of expressing themselves through writing. More info at www.slcc.edu/cwc/.